Family : meliaceae
Sanskrit Name : Nimba
Hindi Name : Neem
Tamil : "vembu" or "veppam"
Kannada : "bevu
Telugu : "Vepa"
Malayalam : `Veppu" or "aryaveppu"

Neem or Nimba as it is called in Sanskrit is a plant of varied uses especially in Ayurveda since ancient times and is highly extolled by expert physicians as well as practitioners of folk lore medicine. It is also a much prized household remedy



The plant has thirty two names in Sanskrit, among others
1. nimba : the basic term of the basonym
2. Sutikta : Auspicious bitter, refreshing to the taste
3. Pichmarda : Controlling a type of leprosy called pichu
4. Neta : Leader among the controllers of disease
5. Ravisannibha : health giving like sun
6. Arishta : Not infected with insects, insect resistant
7. Sheeta : cooling
8. Cchardana : vomit inducing emetic
9. Krimighna : destroying worms
10. Sumana : pleasing or soothing to the mind,referring to the graceful appearance of the whole tree
11. Shirsha parna : bearing bunches of leaves atthe ends of the branches
12. Shukapriya and Kakaphala : fruits well liked by parrots and crows in search of these fruits.
13. Linguniryasa : producing an exudation like asafetida or hing
14. Pitasaraka : having its inner wood, yellow.
Neem is a large sized everygreen tree found growing all over India, wild as well as cultivated. This occurs usually near human habitations and sometimes as an avenue tree along the highways. Figures of Neem trees are found in the talisman unearthed from the Mohanjodaro remains. Neem is undoubtedly one of the typically native trees of India, attractive, densely shady and with shinning yellowish green leaves generally crowded toward the end of the branch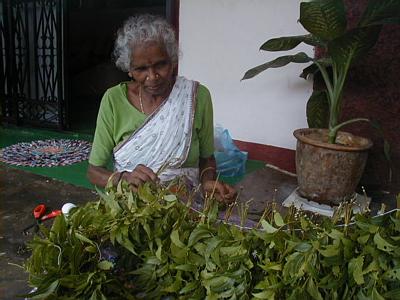 Pathi ( Grand ma ) showing the art of making the Neem Garland